HOWARD'S CLAIM TO FLAME
R.I.P. ---U-WPCHX, UWPS, UWPO, UKC FO, T1 VIA SDA - HOWARD'S CLAIM TO FLAME - SCHHB, WPT3, WDS, OFA CARDIO, OFA HIPS Good, DNA Profiled
Flame is one of our favorite dogs. She is a hard working female with a nice Hemphill/Wilder pedigree. She is athletic, and drivey, with a natural hard grip. She is a multiple MWPP winner, and also won the Hard hitting dog contest at the Motorcity ABRA show 2006. She has won so many MWPP awards, we have lost count. Flame did pretty good at The WPBTCA 2009 Fall show, and placed 3rd in WP and Conf. Flame is now spayed, and our blood trail dog. She just recovered her first deer, last fall(a sm. 7 pt of Beths) SHE IS NOW RETIRED AND SPAYED.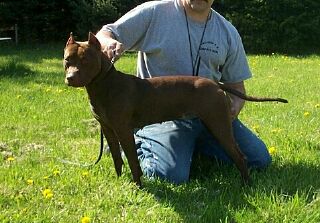 This picture was taken summer 06.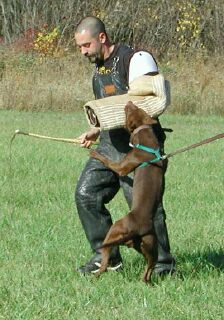 Flame on helper Chris Ellis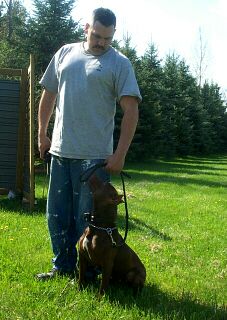 Flame doing some "watch" exercises.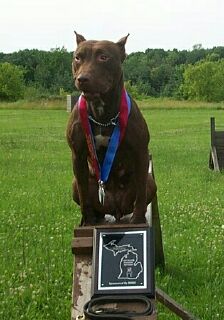 A close up Flame and her HH plaque. This really tickled us, because Flame was half the size of all the other dogs entered. They were mostly ABDS.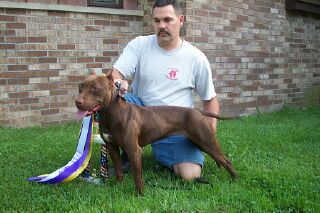 A picture of Flame taken after she won MWPP at premier several years ago, at 43 pounds.
HERE IS SOME VIDEO OF FLAME PULLING AT THE PREMIER 2007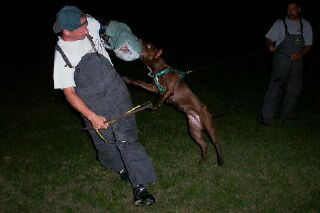 Another grip work picture of Flame at OG Michigan SchH Club.
WHAT FLAME HAS DONE THIS YEAR(2009). (DURING RETIREMENT)
1ST PLACE IN THE 45 POUND CLASS AT THE UNWPA NATIONALS ON SNOW.
3RD PLACE IN CONFORMATION AT THE WPBTCA NATIONALS.
3RD PLACE IN WEIGHTPULL AT THE WPBTCS NATIONALS.
RECOVERED 2 DEER BY BLOODTRAILING DURING BOW SEASON.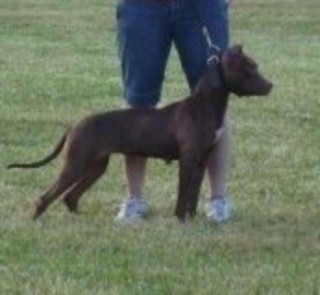 FLAME SEPT. 19, 2009 WAPBTCA Nationals. Pictured in the conformation class. 8 years old.