SHOGUN
HOWARD'S SHOGUN RUA- OFA GOOD HIPS, OFA PATELLAS NORMAL, ADBA/UKC/AADR registered-AADR ptd.
SHOGUN IS A WELLROUNDED DOG. HE IS A SON OF OUR MISS FACE, AND CODA. HE SHOWS AMAZING DRIVE IN GRIPWORK AND FOCUS IN TRACKING.
VIDEO OF SHOGUN TRACKING AS A PUP.
Shogun, at 1 YEAR. Working on Paul Phillips.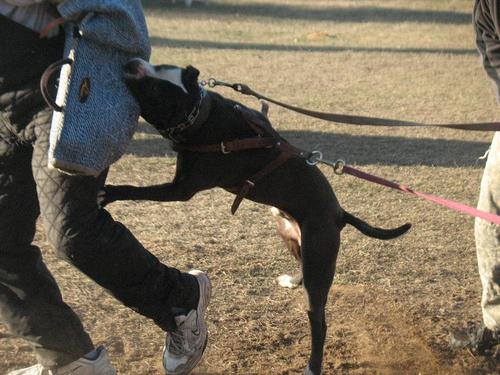 HERE IS A PICTURE OF SHOGUN AT 14 MONTHS. HE IS PROGRESSING WELL IN HIS SCHUTZHUND TRAINING. EXCELLENT IN TRACKING, WONDERFUL IN BITEWORK, AND FAIR IN OBEDIENCE.
Shogun is a wonderful bulldog. He has great temperament, high drive, natural full calm grip, and very athletic.