SAGEBRUSH TACOMA ANNIE OF HB - R.I.P.
REST IN PEACE= UKC CONFORMATION "CH" U-FO, U-WP SAGEBRUSH TACOMA ANNIE-SCHB, SCHA, OFA GOOD HIPS/CARDIO, DNA PROFILED
R.I.P. SHE LIVED TO 13 YEARS OLD, ALMOST 14. ANNIE WAS A GREAT FEMALE. SHE HAD A NICE TACOMA PEDIGREE, AND AWESOME WORKING DRIVE AND TEMPERAMENT. A BIG DOG IN A SMALL PACKAGE. SHE WILL BE MISSED. THANK-YOU CARLA RESTIVO FOR GIVING US A CHANCE TO OWN SUCH A GREAT DOG AND LOVING COMPANION. PEDIGREE
Annie is shown here at ADBA show weight. Her UKC show weight would have be about 6 pounds more than this. She was conditioned down to this weight, her food was NOT cut.
Annie is a 46 pound female out of Browns Tacoma JackII - CDX, OFA and Sagebrush Tacoma dreamer-OFA, TT. She is Bred by Carla Restivo of Sagebrush kennel.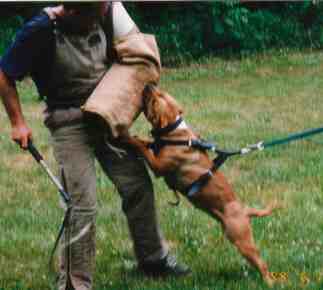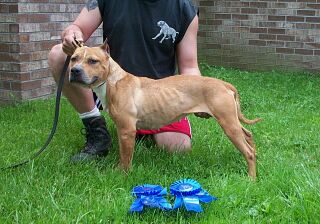 Annie on helper Gustavo Sanchez.
Annie is one of the few linebred Tacoma dogs alive today, and the only Schutzhund titled one!
Annie was almost 10 years old in this picture. She kept her muscle tone and energy level until the year she passed. She is missed!