HOWARD'S VER MAXIMUS
U-WP, UWPCH, UWPV,UWPO, U-FO HOWARD'S VER MAXIMUS - Schutzhund B, AD, AADR Pullmaster.OFA PRELIM GOOD, OFA CARDIAC, DNA VIP. ATAXIA CLEAR THRU OPTIGEN.
Max, also known as Chubrock. He is out of Magnus and Annie. He has earned multiple weightpull titles. He already has his U-WPO title, and has points toward his U-WPCHX, AND several MWPPs . He also took MWP and MWPP at the UNWPA 2009 Nationals snow pull. MAX is weightpull pointed with AADR, ADA, APA, and has been ranked multiple times in the UKC Allstars.He has incredible temperament and awesome drive. Max is at stud to approved females. He is the type of well rounded dog that could add both strong temperament and drive to a show type bloodline. He has the temperament and soundness that all bull and terrier breeds should exhibit. PEDIGREE
MAX IS AKC, UKC , AADR AND ADBA REG.
Click
here
for a short video of Max, learning the hold and bark.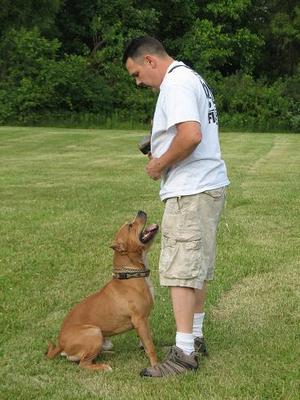 This pic was taken after the Agility of Beth and Max by Dan Williams. Thanks Dan!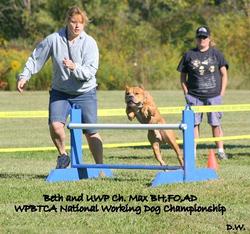 This is a picture of max taken at the 2009 WPBTCA nationals where he won novice agility, novice obed. and 2nd place open weightpull. Thank-you Cindy for this great pic!
Max taking first place in obedience at WPBTCA nationals.