About Us
HOWARD AND BETH BURGESS
I bought my first APBT in 1983, while I was in highschool. It was a little gamebred dog that I just kept as a pet and workout companion. Later on, around 1991, I stated doing some basic dog training. At that time, I had two female APBTs. Zeena, the younger one, was my first true working dog. I was able to join a Schutzhund club and start formal training with her. I had already attended a few ADBA shows and she had won a couple of weightpulls. Zeena went on to earn her ADBA Ace title and SchH1, plus some other titles like AD, WH, UCD. She also won a few conformation classes with ADBA and UKC. After that came Killian, Tonka, and so on.
Over the years I have competed with a lot of my dogs in a lot of different sports/events. I have finished quite a few dogs in conformation, as well as working them. I have owned and trained pet bred dogs, gamebred dogs and show bred dogs. I have familiarized myself with different lines and studied pedigrees. In the last decade or so, health screenings have shown their importance, and my dogs are tested with OFA for hearts and hips, plus Ataxia with the AKC dogs. I truly feel that I know the APBT inside and out. Of course, I am always open to learning new things. I am tough on my dogs, and my expectations are high. I will not breed, nor sell a dog that is lacking in the traits that make this breed so special.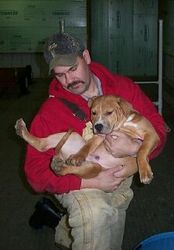 TRAINING CREDENTIALS
I am a certified regional level helper for SchHUSA, and been doing helper work for almost Two Decades. I have worked GSDs that have went on to place at regionals and nationals. I belong to a couple of hard core training groups and also do privates. I train and breed dogs seriously, but it is a hobby, it is not how I make my living.
Besides titling dogs in Schutzhund and weightpull, I have also trained PP dogs, irondogs and superdogs. I also use my dogs for hunting and deer recovery. I like a dog that can truly DO IT ALL!
810-233-4609 or Cell: 810-624-7872